23 Feb 2022
Tesco has moved from being a service-led to engineering-based firm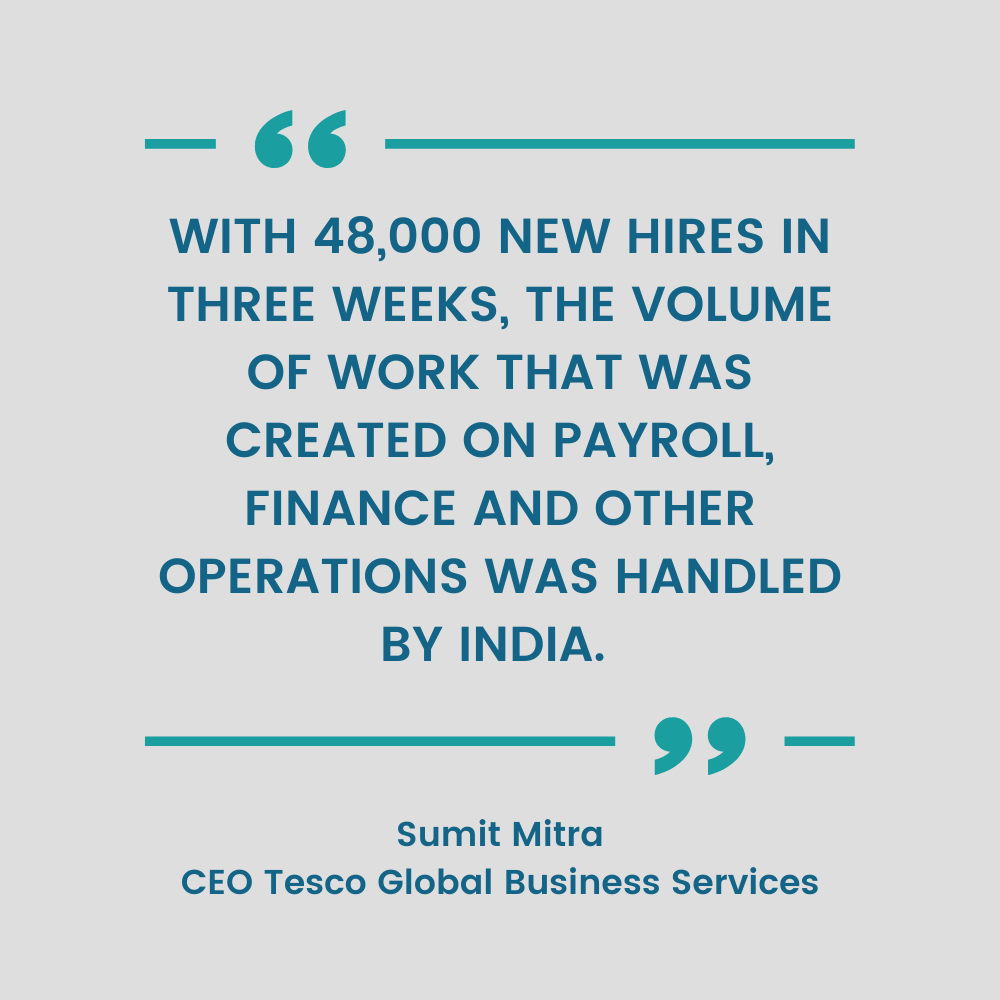 UK-based retail giant Tesco has had a centre in India since 2004; it started as a simple outsourcing unit and is now a global services centre which is the core to its operations. Sumit Mitra, CEO of Tesco Business Services & Tesco Bengaluru was interviewed about the company's Bengaluru campus is increasing value for shareholders and using technology for its global plans. Read below the interview with Sumit Mitra.
How has Tesco Global Business Services' (GBS) unit changed over the last five years? How is it becoming more significant in Tesco's global road map?
In 2015, then CEO Dave Lewis, wanted a new way of transforming the business as Tesco was losing market share, negative in cash and running into losses. While looking at solutions, they also looked at the GBS unit. The thinking was, how do we leverage the global business model? As part of the transformation, 10 processes were created, standardised and led by an executive.
It was about setting up the fundamental building blocks of the next generation of business services, to create a transformation capability using artificial intelligence (AI), machine learning and robotics to drive process digitisation and build a continuous improvement culture within the organisation.
Tesco moved away from a service-led organisation to an engineering-based organisation, where they went from 80% service-led people to almost 80% engineering resources. This meant they were looking at innovation and working with their colleagues across the globe in the technology function to create value for the group.
Tesco's 3 year strategy is digitally driven, an edge that transforms the core of the business, drives cost transformation for the group, creates an engine of data science and data analytics that delivers business insight. They are building a centre of excellence in robotics, AI and applied research, so that they can work with ecosystem around us, bring in new technology and new capability and ingrain them within the organisation and build the next generation of business services.
They're looking at customer experience, supplier experience, business partner experience, and organisation experience, rather than just at a final table design approach.
With other centres being set-up, what role does India have?
Anything that Tesco wants to pilot, learn or test, starts in Bengaluru. They use that scale to build anything for the rest of the business, whether it's the Tesco Bank, Tesco mobile, the book or wholesale business. Also, India becomes the centre of excellence for technologies like robotics, for continuous improvement, AI and data science. Bengaluru is still the biggest centre that's creating the biggest value back into the group business.
To give an instance of what Tesco GBS in India does is, 70% of the entire finance activity across the group is done in Bengaluru. 100% of all store design, any new store that needs to be opened up or designed is handled from India. During the pandemic, 100% of the supplier payment was done from Bengaluru. So, it shows the critical nature of the work that was carrying on.
When the pandemic broke and Europe was worst impacted, we had almost 52,000 employees in the UK on leave due to COVID and our online business skyrocketed. They used to have about 647,000 orders per week online, which meant up to 1.2 million orders a week. Which meant that they had to create capacity to do the picking in the stores. They had to go back to the market to rehire people and this is where Bengaluru played a huge part. With 48,000 new hires in three weeks, the volume of work that was created on payroll, finance and other operations was handled by India.
With Tesco having a centre in India it helps support the UK operations, this interview is a perfect example of how expanding your business globally can be successful. If you are interested in expanding your business overseas you should attend Going Global on the 16th & 17th November at the ExCeL London, to learn more about the process. Grab your FREE tickets here - https://bit.ly/3JCxw9Q