28 Jun 2022
Global Trade Agreements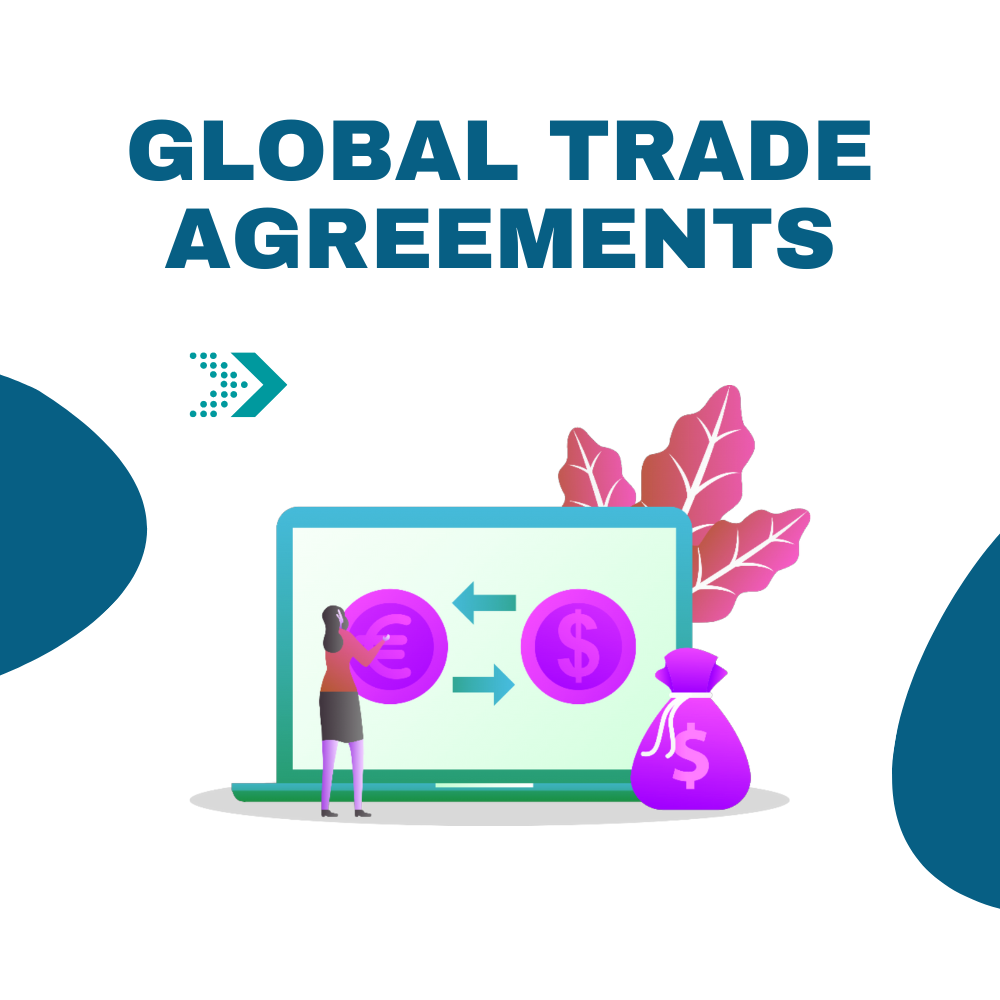 In the UK's current economic climate post Brexit, businesses that have expanded overseas or are looking to expand need to have the necessary knowledge required to ensure their success. This means keeping up to date on trade agreements and what is happening with other countries.
As of January 1st 2021, EU trade agreements no longer apply to the UK. This means that some are still in place in a provisional capacity to ensure the continuity of trade, whereas some have been fully ratified. Some of the agreements still in place with non-EU countries include those with Canada, Norway, and Japan to name a few.
The current report from GOV.UK's website for UK export markets shows statistics recorded to the end of December 2021. The top country that exports goods from the UK is the United States, costing £132.2 billion and making up 21.1% of the UK's total value in exports. The second is Germany at £46.6 billion and 7.4%, the third is the Netherlands at £42 billion and making up 6.7% of the total export value. For imports, the top is again the United States at £83 billion and 21.2%. The second is China at £66.1 billion and 10.1%, and the third is Germany at £62.7 billion and 9.6%. But we can expect the next report on UK imports and exports to be published next month on July 27th.
Significantly, in more recent news, the UK has gone on to sign three new trade agreements after leaving the European Union. This includes an agreement with Australia signed late last year in December 2021, and one with New Zealand in February of this year. These agreements have not yet come into force. More recently a digital trade agreement with Singapore, which was signed in February 2022, has just come into force on 14 June. This will be of great benefit to UK businesses as it allows them greater access to Singapore's digital landscape. UK goods exporters can cut time and costs of border processes and other monotonous methods by signing with e-contracts and e-signatures. This will ensure that both the UK and Singapore assist in the further development of smaller businesses, employment, and international connections. The significance of this new deal cannot be overstated with Singapore presently being Britain's largest investment and trade partner in South-East Asia.
There are also some ongoing negotiations at the moment with regards to a UK-Switzerland trade agreement. In April 2022 discussions started on replicating a deal like that of the EU-Switzerland agreement. The consultation takes place this month. There is no current agreement between the UK and India but the third round of talks took place in May this year with the fourth round due this month and to be hosted in the UK.
Most recent news reports that there are talks of a trade deal between the UK and six Gulf nations, including Bahrain, Kuwait, Oman, Qatar, Saudi Arabia and the UAE. This could potentially boost the economy by up to £1.6 billion a year. A meeting is due to take place in Saudi Arabia on Wednesday 22nd June. Talks on a trade deal between the UK and six Gulf nations that could boost the UK economy by up to £1.6 billion a year will kick off on Wednesday with a meeting in Saudi Arabia. According to GOV.UK, this agreement would also boost investment opportunities and create and support jobs across the Gulf and the UK with almost £30 billion already being spent between the economies through importing and exporting goods. Almost 11,000 SMEs from the UK exported goods to the Gulf in 2020. They accounted for 85% of the total number of exporters. These numbers are expected to grow which demonstrates the significance of a trade agreement between the UK and the six Gulf nations.
Other negotiations are ongoing but we can hope that post-Brexit and post-Covid, these important talks can continue.