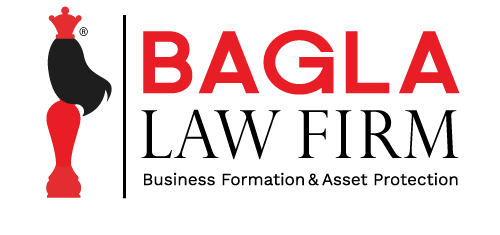 Bagla Law Firm, APC is a business formation and asset protection law firm celebrating its 14th anniversary in law. We provide a complete suite of services to fulfill the needs of entrepreneurs, small businesses, corporations, and international businesses.
Bagla Law Firm specializes in providing excellent legal services to those clients who are based outside the United States and plan on growing their business by selling products or services in America. It can be very daunting and confusing for foreign-based companies learning the ins and outs of how to do business in the United States and that's where we excel: helping those companies with all their legal needs when expanding operations in America. No need is too great as Bagla Law Firm helps clients from the startup phase to the growth phase, and eventually through the sale or merger phase.
Bagla Law Firm also helps clients with offshore asset protection. The strongest asset protection you can establish is an offshore strategy involving a limited liability company and a trust. Offshore asset protection removes your entire asset portfolio out of the U.S. legal system. You essentially put your assets into a legal system that has the strongest asset protection laws in the world.
Starting a new business or entering a new market is a giant leap, both emotionally and financially. In the United States, incorporating a business involves planning, making key financial decisions, and completing a series of legal activities. Moreover, the legal structure one chooses for their business impacts the business registration requirements, and how much taxes to be paid with their personal liability. Bagla Law Firm, a distinguished law firm led by Kelly Bagla, Esq., makes the leap as simple and as reliable as possible.
Bagla Law Firm, APC
www.BaglaLaw.com
Admin@baglalaw.com
Kelly@baglalaw.com
5857 Owens Ave, Ste 300
Carlsbad, CA 92008
Office: 760-579-6789
Cell: 760-525-4540
Address
Bagla Law Firm, APC.
5857 Owens Ave, Ste 300
Carlsbad
California
92008
United States